Equine-Assisted Social-Emotional Learning
Equine Assisted SEL sessions focus on social and emotional skill development, and offer ample targeted opportunities for growth, experimentation, and reflection when we see the horses' responses to us as informed by their own social emotional awareness. Horses are immersed deeply in the environments we ask them to live in. Through paying attention as we share space, breathe, make contact with them, and move with them, we can follow their lead into living with more presence and intention.
My perspective centers horses as a guide to profound re-connection to the sensory-filled "natural" world, which opens us up to deeper awareness of our inner life in all dimensions. As we experiment sharing space and exploring various activities and obstacles with horses, equine-assisted SEL focuses on harnessing the horse's aptitude for:
revealing confusions or contradiction in our communication style

supporting our awareness of and care for our own nervous system's signs

meeting us best in the moments where we are more authentic and honest

offering a profound and immersive track to the experience of mindful awareness

Horses are social animals who survive by living and moving in harmony and cohesion as groups with nuanced social organization and communication. When we interact with them, we create a space to explore and refine our skills in how we increase awareness of our own internal experience as well how we respond to others.
Guided by Ecopsychology
Ecopsychology places our well-being in the context of our place in the earth's ecosystems. We can reconnect with the more-than-human world of rich sensory experience through our explorations in emotional awareness in interactions with horses.
Ecopsychology denies the dichotomy that we are separate in our wellness from the world around it. It necessitates an evaluation of the relationship between a person and his or her surroundings, including the planet and the diversity of life forms found within.
Interactions with animals are a way to address that therapeutic sphere. My academic work has analyzed the possibility of integrating equine assisted therapies with ecopsychology, especially in regards to Roszak's principles of ecopsychology (2001). I believe that this combination is beneficial to both groups, and that an ecopsychological model, firstly, provides an experience more ethical to the horse in the implications of acknowledging their presence as a being, not a tool, and secondly, offers a deeper healing for the human: reaching past addressing mere symptoms and into demanding a reassessment of the values and assumptions held about self, other, and object.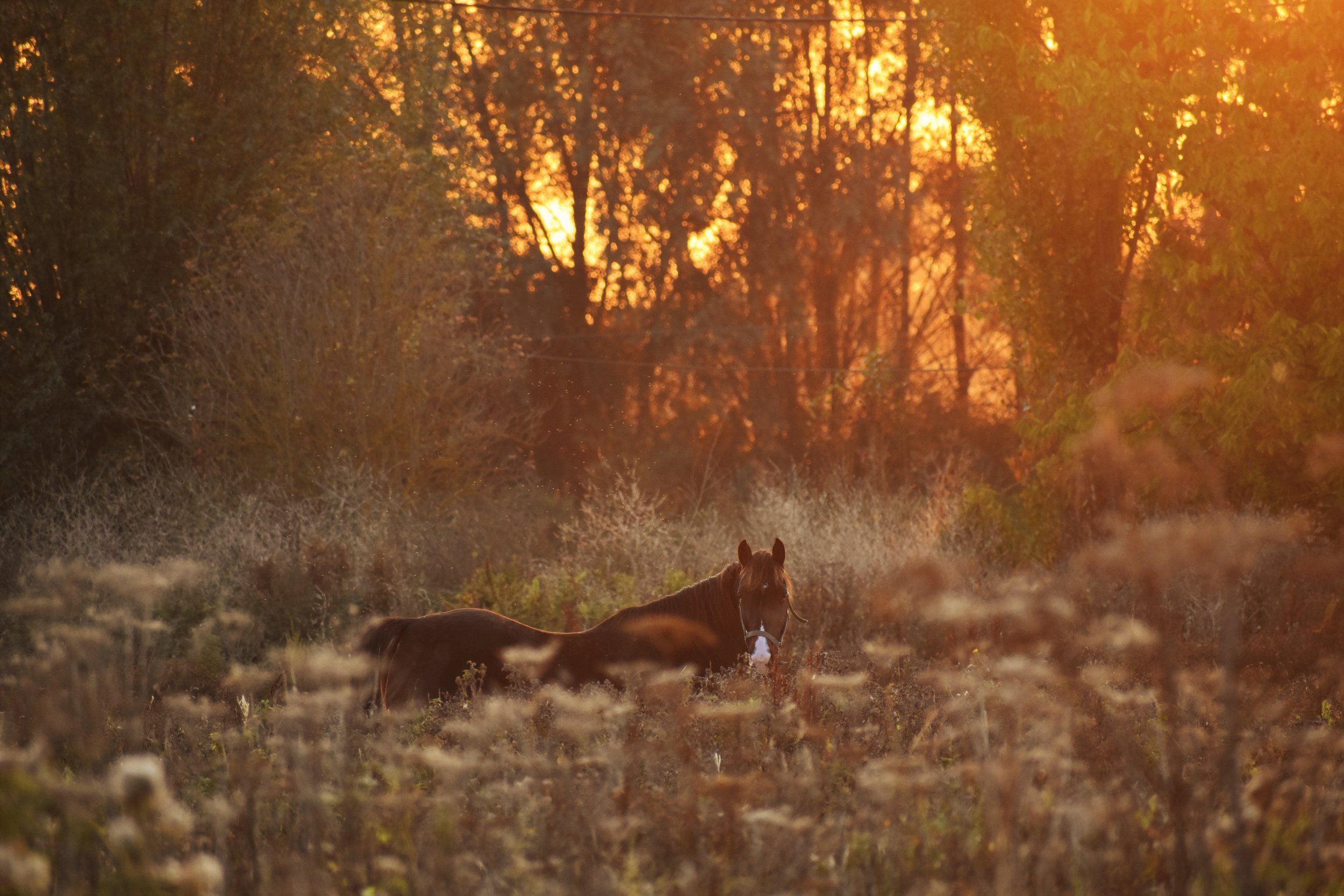 Details Coming Soon
The "circle" is for girls ages 9-12 and focuses on:
Building Emotional Intelligence and Boundaries: naming our emotions, tracking where they stem from in our bodies, and maintaining trauma-informed safety for recognizing where and how to pause and take care of ourselves

Friendship and Communication: noticing how we respond to the needs and communication of human and non-human beings we spend time with, as well as the impact of our own patterns of communication

Teamwork: how do we build to each other's strengths and support each other's weaknesses when we share a common goal… how do we speak to our own strengths and weaknesses?

Held in partnership with an equine specialist or instructor, we will explore these themes through movement, art, and building connection in activities with horses from the ground (no riding).
Did you dream of horses as a child, or always wanted to connect with horses, but don't have interest or access for horse sport activities or riding lessons? This workshop is designed to offer opportunities to learn about and connect with horses from the ground, understanding how they think, learn, and communicate with each other and with humans.
Want to be notified of when this workshop is scheduled? Submit your contact info below: